Penousal Machado
(CISUC / CDV Lab)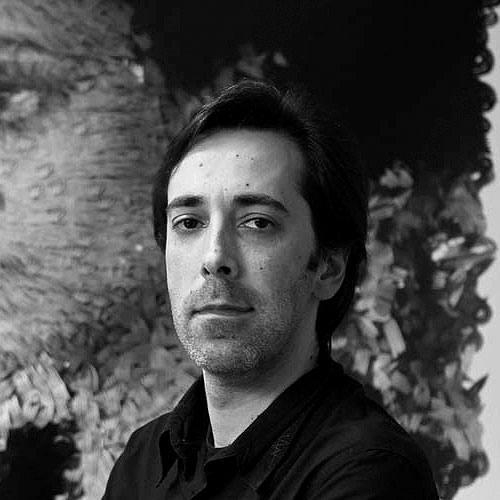 Penousal Machado é Professor Associado do Departamento de Informática da Universidade de Coimbra, em Portugal. É director adjunto do Centro de Informática e Sistemas da Universidade de Coimbra (CISUC), coordenador do grupo de Sistemas Cognitivos e Media e director científico do Computational Design and Visualization Lab (CDV) do CISUC.
Os seus interesses de investigação incluem a Computação Evolutiva, Criatividade Computacional, Inteligência Artificial e Visualização de Informação.
É autor de mais de 200 artigos de revistas e conferências avaliadas nestas áreas, e as suas publicações revistas por pares foram nomeadas e premiadas várias vezes como melhor(es) artigo(s). Até maio de 2019 as suas publicações reuniram mais de 2262 citações, um índice h de 24, e um índice i10 de 51. Foi consultor de 7 teses de doutoramento e 39 teses de mestrado, e atualmente orienta 9 teses de doutoramento e 3 de mestrado.
É também presidente de vários eventos científicos, incluindo, entre os mais recentes, ICCC 2020, PPSN XV e EvoStar 2016; membro do Comité de Programa e do Conselho Editorial de algumas das principais conferências e revistas nestas áreas; membro do Comité Director do EuroGP, EvoMUSART e Evostar; e membro do Conselho Executivo da SPECIES. Recebeu vários prémios científicos, incluindo o prestigiado Prémio EvoStar pela sua notável contribuição para a Computação Evolutiva na Europa e o prémio de Excelência e Mérito em Inteligência Artificial atribuído pela Associação Portuguesa de Inteligência Artificial.
Penousal Machado foi convidado a proferir palestras num vasto conjunto de domínios, desde a computação evolutiva até à visualização e arte. O seu trabalho foi publicado na revista Leonardo, revista Wired e apresentado em locais como o Museu Nacional de Arte Contemporânea (Portugal) e a exposição "Talk to me" do Museum of Modern Art, NY (MoMA). O seu projecto de investigação mais conhecido no campo da arte evolutiva é o NEvAr. Este sistema começou como uma ferramenta tradicional de arte evolutiva interactiva. No entanto, a inclusão de esquemas automatizados de atribuição de aptidão física, permite-lhe realizar julgamentos estéticos de forma autónoma. O refinamento das capacidades estéticas do NEvAr, ao longo dos anos, converteu-o no que é provavelmente o primeiro Artista Artificial Evolutivo.
Penousal Machado is Associate Professor at the Department of Informatics of the University of Coimbra in Portugal. He is a deputy director of the Centre for Informatics and Systems of the University of Coimbra (CISUC), the coordinator of the Cognitive and Media Systems group and the scientific director of the Computational Design and Visualization Lab of CISUC.
His research interests include Evolutionary Computation, Computational Creativity, Artificial Intelligence and Information Visualization.
He is the author of more than 200 refereed journal and conference papers in these areas, and his peer-reviewed publications have been nominated and awarded multiple times as best paper. Until May 2019 his publications gathered over 2262 citations, an h-index of 24, and an i10-index of 51. He was the advisor of 7 PhD thesis and 39 MSc thesis, and is currently advising 9 PhD and 3 MSc thesis.
He is also the chair of several scientific events, including, amongst the most recent, ICCC 2020, PPSN XV, and EvoStar 2016; member of the Programme Committee and Editorial Board of some of the main conferences and journals in these fields; member of the Steering Committee of EuroGP, EvoMUSART and Evostar; and executive board member of SPECIES. He is the recipient of several scientific awards, including the prestigious EvoStar Award for outstanding Contribution to Evolutionary Computation in Europe, and the award for Excellence and Merit in Artificial Intelligence granted by the Portuguese Association for Artificial Intelligence.
Penousal Machado has been invited to perform keynote speeches in a wide set of domains, from evolutionary computation to visualization and art. His work was featured in the Leonardo journal, Wired magazine and presented in venues such as the National Museum of Contemporary Art (Portugal) and the "Talk to me" exhibition of the Museum of Modern Art, NY (MoMA). His most well-known research project in the field of evolutionary art is NEvAr. This system started as a traditional interactive evolutionary art tool. However, the inclusion of automated fitness assignment schemes, allows it to autonomously perform aesthetic judgments. The refinement of the aesthetic abilities of NEvAr, over the years, has converted it on what is probably the first Evolutionary Artificial Artist.